The weather is finally warming up here in Perth, which means many of us are looking forward to spending time outside, entertaining friends and family. If your garden looks a little careworn after winter, it might be worth considering refreshing your backyard with a new look. Our incredible Perth climate allows us to enjoy our gardens for months at a time, so your backyard needs to be in good working order before you light up the BBQ this Summer.
Whether a patio, veranda, alfresco, or courtyard, a covered outdoor space is a perfect place for a year-round alfresco dining, entertaining friends, or for a sheltered relaxing.
Read on to learn more about prepping your alfresco area this Spring.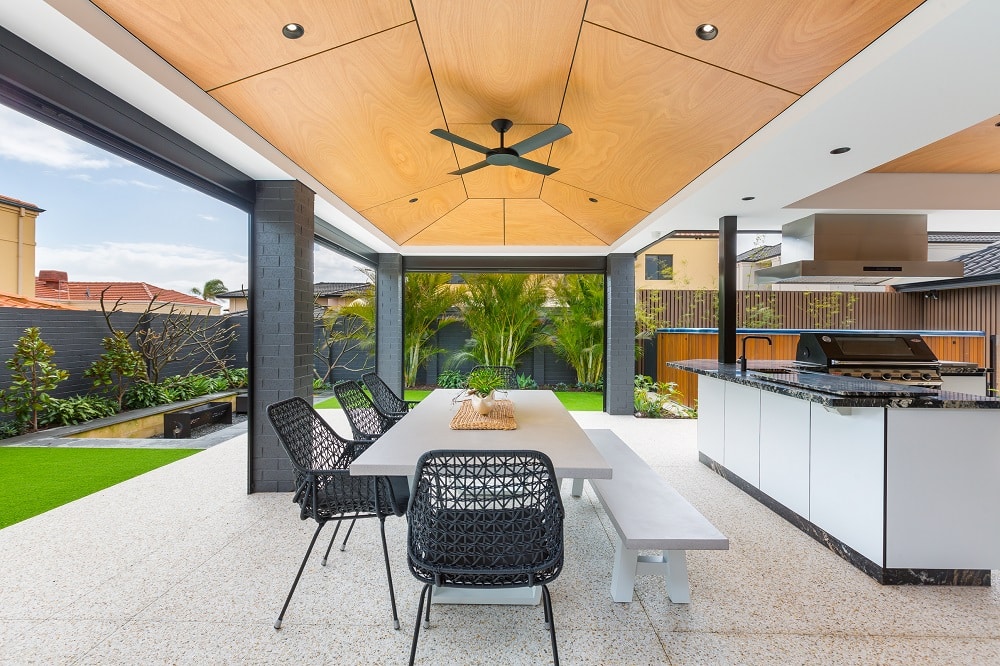 Keep cool
A Perth summer typically means bright, hot, long days with clear blue skies. As the temperature rises, it's essential to ensure your outdoor area includes plenty of cover or shade. If your home has an existing verandah, you can refresh the look with some plants, lights, and furniture. Perhaps you'd like to take it a step further with new balustrading, flooring, and painting.
If you have no shade, consider contacting an experienced alfresco builder. They can provide you with building and design advice to incorporate a versatile and inviting alfresco area addition under your main roof. A home extension expert will help you create a natural integration between your home's interior and exterior, increasing your useable space and increasing your property value. They can advise on heating and cooling options, from overhead fans to misting systems and create outdoor kitchens that will make cooking up a storm outdoors a dream.
Lighting
Lighting creates a warm and cosy ambience both inside and outside. Cover your area with fairy lights, lanterns, warm LED lights, or other feature-lighting to enhance the aesthetic.
Furniture
Furniture choices can make or break an outdoor room. You want your furniture to be comfortable as well as look great. Aim for comfy couches with decorative pillows and/or a stylish outdoor dining table and chairs. Don't be afraid to let your personal style shine through.
Create a Plan
Before launching into an alfresco renovation in Perth, start by creating a wish list. Whether you're updating an existing outdoor area or adding a home extension, give some thought to how you intend to use the space and how you wish to furnish it. You can also create an inspiration board of ideas on Pinterest.
Here are some things to consider when planning an outdoor room home addition:
How much space do you need?
Would you like a room incorporated under your main roof, or independent?
What are your 'must have' inclusions?
Will you need plumbing for gas or water?
How many people will use the new space?
What kind of lighting will you need?
What is the style you would like to reflect?
Once you have a plan, get in touch with Addstyle to find out what's possible. Addstyle is an experienced home extension builder offering a full design, construction and interiors service, and can help you make your alfresco renovation dream come true.
Let's get started
It's the perfect time to start thinking about your new alfresco area. The sooner you start planning, the sooner you'll be sitting outside with friends, sipping on a refreshing drink, enjoying a warm summer evening.
When you choose Addstyle Master Builders for your home extension or alfresco renovation in Perth, you get the peace of mind that comes from a well-established builder with Perth's best track-record for excellence in quality and customer service. We create versatile, comfortable outdoor areas designed for living.
Contact Addstyle Master Builders to learn more or book a free consultation.